During my time at MaxCDN, I built, maintained, and regularly iterated a number of different sites. My main focus centered around the primary marketing site, a marketing blog, and a support/resources center. In addition to building the sites, I also assisted in and led growth, testing, and SEO marketing initiatives.
Industry
Date
2014 - 2016
Services
SEO
UX Design
Web Development
WordPress
I spent the bulk of my time on the main MaxCDN marketing site. It featured a fully custom WordPress site with a theme built from scratch and a number of hand-built plugins. The site had to play many roles, including targeting different verticals through a series of targeted landing pages, also known as: the solutions section.
The pricing of the MaxCDN services could get quite complex, so one major initiative I participated in was redesigning the pricing pages. I led the team to consolidate plans in a new way, targeted to different customer needs based on business size.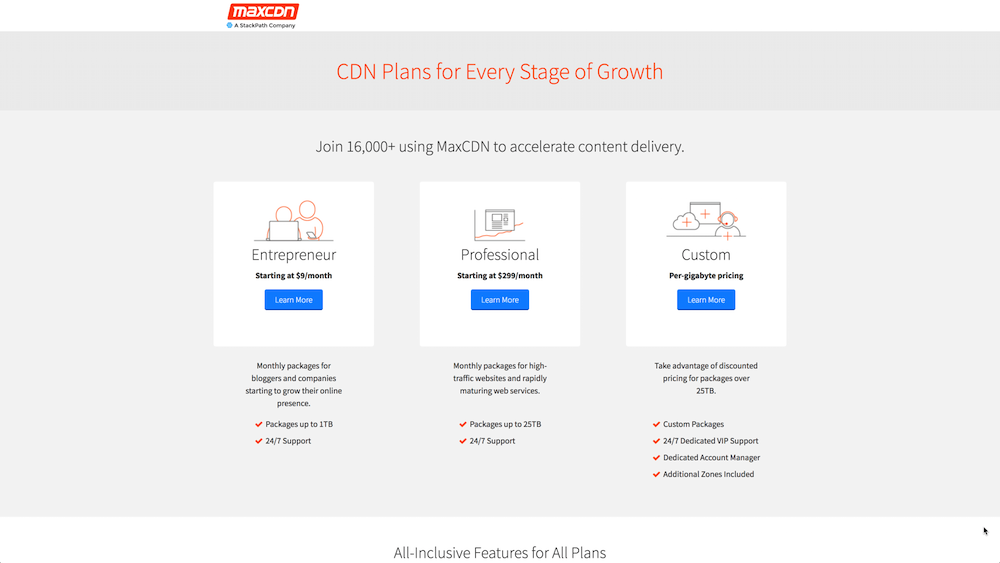 Each pricing section contained multiple plans and had a dedicated landing page covering the included features, frequently asked questions, customer testimonials, and available add-ons.
While I was working at MaxCDN, we brought on a full-time content marketer and did a massive SEO overhaul. One thing we tackled was moving the company blog (a separate WordPress install) from a subdomain to a subfolder, which isn't supported by WPEngine. To do so, we set up a complex series of EdgeRules using the MaxCDN backend to proxy the content to the appropriate URLs and get the maximum SEO boost.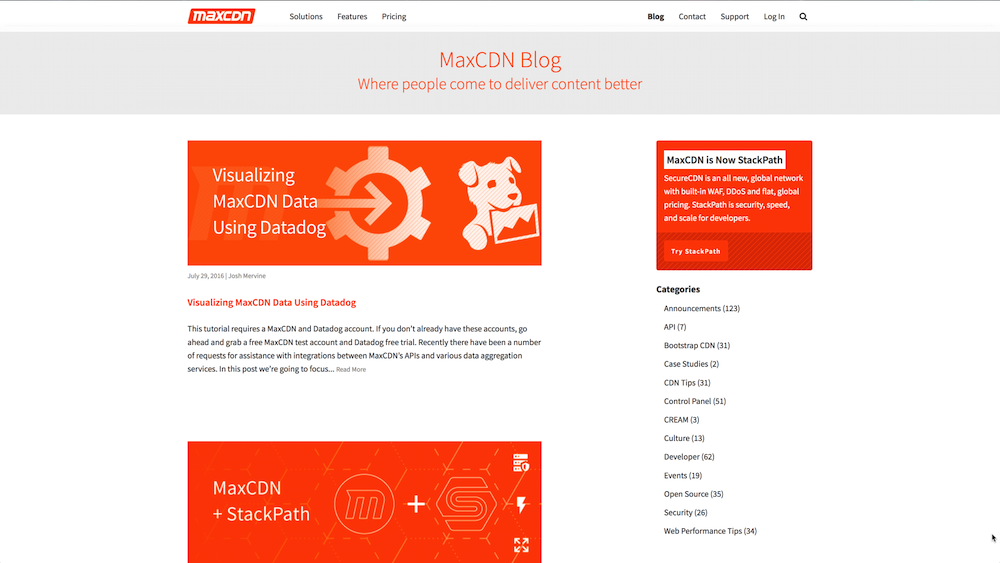 The blog contained a good deal of custom functionality used to boost content marketing efforts. These included small plugins to add functionality, like a button to tweet highlighted text, shortcodes to embed shareable content within the blog post, an in-post table of contents, and a sidebar banner ad with a call to action (CTA) that could be customized on a granular post level.
Once the blog better served the content marketing efforts, another big goal was to develop a site that provided support resources for the existing clients, and acted as a generator of organic search traffic via articles establishing authority within the CDN domain.
The site offered many different content types. A quick-start interactive widget guided first-time users to the right tutorials. A glossary defined common terms within the industry. Developer-specific resources included API documentation, and a section of demos using the provided APIs.